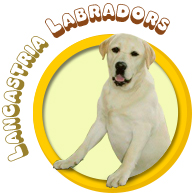 Lancastria Labradors - New Zealand
New Puppies Available
Puppies now For Sale - Ready to leave at 8 weeks old
Lancastria Labradors has been well established in the UK for twenty years but is in its infancy in New Zealand. My family came here ten years ago. I have made extended visits every year since they arrived.
I was lucky enough to be a friend of Sue Marskell of Berolee Labradors who gave me an introduction to Blackhills Labradors here in New Zealand. I arranged a visit and was able to meet both Trisha (Blackhills Labradors) and her sister Kathleen (Willowspring Labradors). Being dog people and in particular labrador people conversation was easy and time flew bye discovering that we had many shared beliefs.
I passionately believe that we should work hard to breed our labrador true to type and preserve his wonderful temperament. A visit to my UK site will show you how I have worked to this end . It will also give you my background in dogs.
Both my daughter and her husband were brought up with dogs so it naturally followed that they brought a dogs into their family.
Two years ago, whilst on a visit to Blackhills with the grandchildren, a young yellow labrador decided that my grandson was to be her 'boy' and so our journey began. Kathleen kindly trusted us with Magic, the yellow labrador girl and home she came. She instantly became an integral part of the family never once being phased with the bustle of life with two young children. A true labrador being a credit to her breeder.
Last year we imported frozen semen from my boy Lancastria Indiana. It has been used by Blackhills producing a black and yellow litter and now by us.
Lancastria Indiana (UK) and Willowspring Magic Star have given us a litter of seven yellow pups.